SEHA ARTIST ROBERT BRAWLEY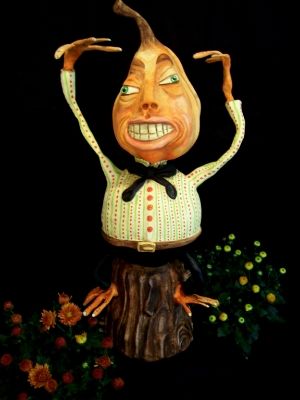 SORRY THIS ITEM HAS SOLD
" It was this big, I swear!"
This Jack has a tall tale to tell.
He sits atop a faux bois sculpted stump, as he weaves his tale.
He says, " It was this big I swear!" Is he talking about a fish? Or is there more to this tale.
Maybe he is telling a ghost story, or a another spooky tale.
Maybe he is talking about Big Foot, regardless, he is very animated as he tells his story.
If this fun fellow finds a place in your heart, you can come up with your own story.
Happy Halloween! Halloween Fanatic~ Robert Brawley
Piece comes signed, dated, numbered 1-1, titled "It was this big!" and stamped with the Halloween Fanatic stamp. $300.00 FREE SHIPPING (Please allow 2-3 business days for shipping, confirmation is always FREE. Insurance can be added at buyers request.)
Dimensions: 15 in, tall 4 in. diameter base.
Materials: Sculpted from Creative Paper Clay, over styro-foam, wooden dowels, and wire. Painted in acrylic paints, sealed with Mod Podge, and Modge Podge Dimension Magic
on his eyes, nails, and teeth.
To purchase, c

ontact me at brawley78@hotmail.com
~*~*~*~*~*~*~*~*~*~*~*~*~*~*~*~*~*~*~*~*~*~*~*~*~
SEHA ARTIST CINDY TEVIS
WOODEN MANTLE CLOCK $24.99.
To purchase click this
LINK
SORRY THIS ITEM HAS SOLD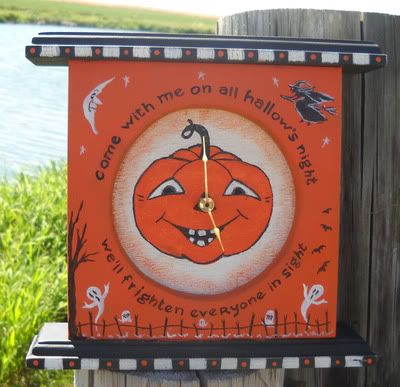 ~*~*~*~*~*~*~*~*~*~*~*~*~*~*~*~*~*~*~*~*~*~*~*~*~
SEHA ARTIST CINDY TEVIS
RAVEN CHALET CUCKOO CLOCK $249.00.
To purchase click this
LINK